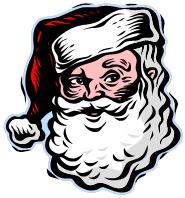 Can Santa get the sack?
Christmas is coming, the goose is getting fat … but so is Santa! He's now too big to fit down the chimney; the elves think they have man flu; and Rudolf says the roads are blocked with snow so he can't get to work!
You might think that Christmas runs smoothly at the North Pole – after all, they have all year to plan it. However, this year there are a few problems for the Head Reindeer (HR) department to sort out.
Father Christmas is too big to fit down the chimney. All year Santa has been relaxing at the North Pole and as a result, his girth has expanded somewhat. The Head Reindeer is worried that he won't be able to do his job properly – after all, he is supposed to climb down chimneys in order to deliver presents. Can he get the sack for not being able to carry out the work in his job description? If Santa is morbidly obese and can't carry out his daily tasks, he could be classed as disabled. This means that sacking him because of his girth may be discrimination – something the Head Reindeer would like to avoid!
The elves think they have 'man flu'. They're sneezing and coughing and their noses are running, so they're really like to stay in bed – especially during December when work gets really busy. Are they allowed to take time off sick, when Father Christmas thinks they just have colds? Staff taking time off for sickness usually increases over the winter months, so the Head Reindeer will need to speak to each of the elves and find out what's actually wrong with them and make sure they have the right evidence to support the reasons for their absence. Keeping in contact with sick staff is always a good idea. After all, how can Christmas carry on without the elves?
Rudolf says the roads are blocked with snow. He says he can't get to the office because of the weather conditions. He can't really work from home, although for some staff, it's worth setting up remote access, so that they can still work, even if they're not in the office. The Head Reindeer needs to make sure that the Staff Handbook is up to date, to cover issues like bad weather. And he needs to find out how else to get Rudolf to work, if there is snow on the road, or Christmas might have to be cancelled.
With a little bit of forward planning (and perhaps some advice from an expert) the Head Reindeer (HR) manager will be able to make sure that everything goes to plan for a great Christmas. At least he can let all the elves take time off together, once the festive period is over!